Post by storytellerrisa on Jul 29, 2020 17:39:11 GMT -4
STORYTELLER
Joy, power, recognition, pride, the relentless emotions that dwells within the human kind that keeps making them strive forward. Among everyone these powerful factors can bring even the most unlikely individuals beyond greatness, with support and friendship one should overcome even the worst of circumstances. Tokyo, one of the grandest homes of heroism, is just about to go through another milestone in it's history books. Those who stand at the top and never falter to evil is about to witness the rise of an evil never witnessed before. Over the course of a few hours, this cold summer night was about to turn into a battle that will push them to the limit and test their stance in their roles. The streets with lively crowds and an even more lively city, has been overrun by a nightmare one could only believe exist in movies.
In a very similar fashion to heroes and their once past dreams of becoming one, the rise of the undead stepped into the streets a couple of months too early.
''KYAAAH! M-monster!''
The young lady in a late night party attire soon got surrounded by creatures that once lived. The very definition of a 'zombie' stood on their two legs and their arms reaching out to strangle and harass people, their hisses and muffled moans underneath their hanging jaws struck fear in even the most competent people. Police already on the streets, beating up these creatures to no avail, even among these foul opponents literal skeletons walked with them as one.
Using buildings as barricades and protection, police forces and armed civilians tried their best to hold their very own life intact until the heroes arrived. But to the great unfortunate state of the Outskirts, very few managed to navigate through the spreading chaos. Even those who trained to protect their people had a difficult time to beat down one zombie after another. They land a direct hit and it just kept rosing.
''N-no way! Even after twenty punches to their limbs it still stands?!''
''Just stop it! It must have some nulification quirk!''
''B-but that implies every single one does- GAH! It holds my arm!''
The zombie lashed out and took a full grip of the young hero's arm, his partner in heroism dashed past and landed a swift kick and sent the zombie back against a car, in which at least five more walked around to reach to the two heroes.
''Tch! Dammit! We need back up!''
Her words got quickly washed away by the endless groans of the walking hordes. No one knew just where this evil came from, but from the looks of it they are in the middle of the hottest part of this spooky invasion.
''Quickly! You two, grab those who are hurt and run to the highway! We got it secured!''
They nodded and went with the officer who had his arm bleeding until it was nothing but crimson red. However, when they ran desperately to the road leading up to the highway, a sudden flashing rocket was seen soaring through the black night sky, and hitting the highway leading out of the outskirts with one big explosion. The damage was so great thet both roads fell apart, effectively making transportation by wheel impossible. The officer felt cold sweat run down on his cheek, shaking as to not knowing what to do.
''W-when did zombies get a rocket launcher?!''
''No! It must be orchestraed by someone! But we can't stop now! The medical station is up here!''
They ran up the empty road and got into the cut off highway, quickly afterwards a large truck drove backwards into the road to block for the zombies. It was a miracle that a part of the police force and the help of a few heroes to secure the highway. Below them, the lively flashy streets once filled with people now are overrun by mindless freaks.
''Ngh... t-they got me good... we need pro heroes down there! If this spread continues it'll grow outwards into the center of Tokyo!'
''You should sit down! You're bleeding fast and we need every manpower we got, there are still far too many civilians trapped down there, but why is this happening here out of all places..''
The female heroine sighed and held her chin trying to think of a logical conclusion, but truly it all seemed far too sudden. Not too far from entertainment avenue, where the highway crosses above, is an abandoned film studio once popular. Those who owned it has moved to a bigger place, but ever since it has been turned into a dust collector, however, in the past week, loading trucks has been driving quite a lot through the busy streets and down to the film studio, this place was no longer an industrial place so it wouldn't make sense for truck drivers to go through this part of Tokyo.
''No matter what it is, we have to put an end to it, there are hundreds- no, thousands, or even more than we can even see, and it just keeps growing! We are gonna need large firepower to handle this, they are clearly not human so we need find way to eliminate them!''
For those who had plans or wanting to get down to the Outskirts of Tokyo, it'd be impractical to go by normal means. The highway for many won't be a problem to use if they have the strength to gallop over, but buildings nearby are fantastic spots to go around with and use for scouting. But one thing is for certain, the source needs to be eliminated immediately or else many civilians will fall dead. Not only is the Outskirts falling under this curse, but across of the land around Tokyo, everyone on their toes and unable to react properly, except for those who keeps their head clear, those who are willing to put their life on the line.
Far inside the film studio plaza, this manical laughter echoed through the air, a presence that struck a freezing sensation to those able to hear such a high pitched relentless laugh, someone who enjoyed this show a tad bit too much, and likely one that are willing to choke Tokyo until theres nothing left.
---
-Yooo ST notes, first round will decide the posting order (with changes if requested).
-This thread can go on for a long time if you are willing, I have very big plans.
-I will leave you with very little information on the get go, so try to use the first round to insert your character in a way for them to get involved properly.
-48h rule will be implemented after our first round of posts.
-This is a very heavy thread, I will not go easy so you better go as hard as you want.
-Options for a non-combat approach exist if you play it cleverly, but I kinda assume everyone desires to be in a fight.
-Requirements to win will be revealed soon.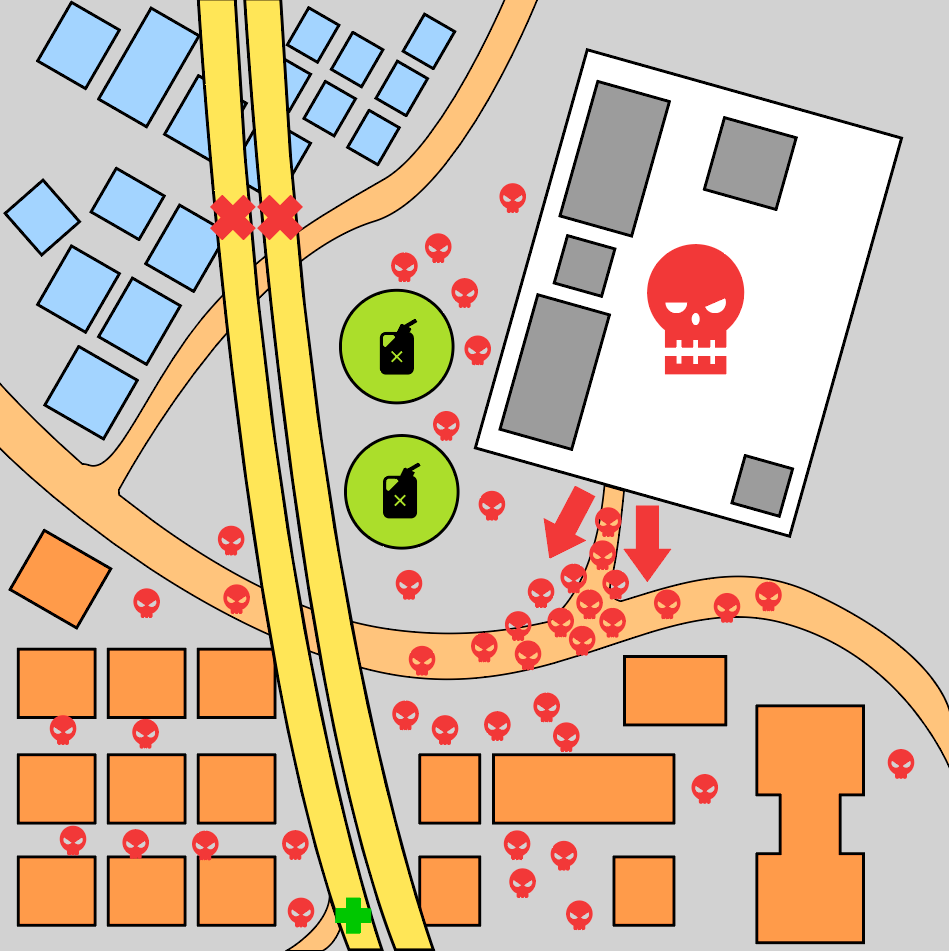 -Red X mark means broken, green plus sign is the medical station.
-This post of mine takes place right below the map where the commercial streets is invaded by zombies from the north (the former industrial area).