Jun 10, 2020 4:41:07 GMT -4
Post by Moyasu Tanso on Jun 10, 2020 4:41:07 GMT -4
Moyasu Tanso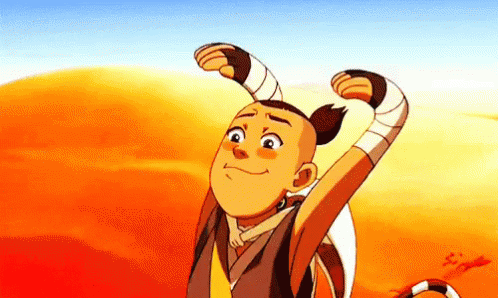 BASIC INFORMATION
Hero/Vigilante/Villain alias:

Player Name: Axeldin

Faceclaim/Series: Sokka / Avatar the Last Air Bender

Age: 13

Gender: Male

Affiliation: Civilian

Height: 1.65m

Weight: 80kilos

Hair/Style: Shaved on the sides with a small tail

Skin/Scars: Olive tan

Eyes: Blue and almond shaped

Notables: has pierced ears though he rarely wears anything in them


APPEARANCE AND PERSONALITY
Appearance:

Tanso is a boy who almost always had tanned skin. This is mostly due to the snowy winters and the harsh summers of his birthplace giving him a permanent tan. He doesn't even remember what his normal skin tone is anymore because of it. Sporting two blue eyes that shine from the contrast of his skin tone they are perfectly framed by his angular hairstyle, though this is only when it's down and not when it's up in a tail. When it comes to body shape he is a bit on the stringy and lanky side. That is not to say he doesn't have any muscle on him, but rather it has never shown on his body for some reason and he can't explain it. Outfit wise he tends to be bundled up in thick layers of a blue coat with white fur though when he does get a tad too warm he does sport a blue tunic instead. This tunic is usually sleeveless though he does have some sleeved versions. The one thing that is consistent with his clothing choices is a shell choker he wears every day.



POSITIVE

✔ Silly, Friendly, Adventurous, Determined, Pun-master

NEGATIVE

✖ Easily distracted, Doesn't take things seriously, Stubborn, Dense, Pun-master

LIKES

✔ Snowfall, Water, Ice Cream, Starlight, Cryotherapy

DISLIKES

✖ Harsh Sunlight, Saunas, Fire, Spicy Food, Lightening



Personality:

Tanso is pretty much a free spirit of a person. He does things at his own pace and enjoys life for what it is. A bit of a goofball he does things that might come off as flamboyant or outrageous, but its just him simply having fun. This has put him in precarious situations he will admit weren't the wisest of choices in retrospect, but he lives for the adventure. These adventures have also led to him getting lost easily and sometimes far away from home before he even realizes it. He loves to go to new places and with him being easily distracted he loses track of how he gets somewhere. While most would think this is terrible though Tanso just means he is exploring and learning new things so it has never bothered him. Besides if he does need help he would be certain someone would help him out in his time of need.

Another thing about Tanso is he doesn't read other people's emotions quite well. Unless someone is very blunt to him about they feel he will just not get their sarcasm or jokes against him. Rather he will just go along with it and do his own thing with it thinking its the right thing to do. Though even when people do express their emotions to him he doesn't just stop talking to them or leave them alone as he will almost immediately forget about it. This can make him come off a pest who just gets in your face or jabbers on, but he doesn't mean any harm by it. He just loves being around others.


HISTORY
Tanso was born in Rikubetsu, Japan during the cold winter months. His parents were simple folk who held quirks that they used around for their personal needs though due to the social stigma that surrounded the world on their quirks they were kept secret from most people. His father held a quirk where he could freeze anything he touched if he so wished it which made him have a very successful ice cream business. His mother, on the other hand, had a quirk where she could crush materials into compact sizes to recycle it or store it away for later. So when their child was born with a quirk of his own they were very concerned especially since it meant they needed him to train to control it and hide it from the world. Tanso didn't like to hide his quirk as he felt it was quite an interesting thing. He even thought about putting on shows with the ice crystals he could make from his breath, but once they found the dangers that could be involved with his power they suppressed his power the best they could. Tanso had to reluctantly agree to this when he accidentally gave himself frostbite while experimenting with the shapes of his quirk. The parents were able to excuse the burn as an accident that happened in the family ice cream shop.

From then on Tanso would do his best to keep his powers under wraps for his family's sake and his safety. He would of course still help out at the family shop and only use his quirk in very dire situations. Like when the freezer would break down at the shop and they needed to unmelt all the ice cream. News about the school that would teach people how to control and hone their powers would eventually meet the family's ears and Tanso would ask his parents if he could attend when he was old enough. At first, they said no as they didn't want him to be exposed to such dangerous situations again, but they ended up relenting after being asked over a thousand times. Since he would still have some time before he would be allowed to enroll in the school though they decided to take their ice cream business closer to the city and moved closer to the school. Their new home had to be a bit smaller and cramped in comparison to their original home, but Tanso was happy that one day he would get to explore his powers and be able to freely express himself with them. He would just have to wait.