Post by Risaka Reinacht on May 17, 2020 9:41:02 GMT -4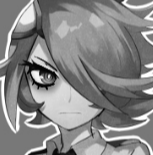 RISAKA REINACHT
Second Year U.A / Miss Gray
''Everyday I ask myself if I even should bother''
words • tagged @ • notes
Such a relentless interaction between the two fighters, so many punches got dished out that even a commentator would have a hard to follow up how many hits are being connected. With both sides having an incredible speed to the strikes it would quickly be a draining exercise, considering the fact Risaka is not the kind to be caught in a loop such as this. She felt the very same lazy eye feeling, the annoying need for a nap time. Just as she were thinking about it a sudden kick flew from the side, this boy were not only swift on the upperbody, but on the lower half! Risaka flezed her arm up into a defensive blockage, absorbing the kick's pressure while giving Manuel a glare.

''If you're enjoying this so much I'll give you a true reason to never forget it.''

No more surprises, Risaka simply had enough of Manuel and his nimble yet prowess frame. She raised her leg up to kick back another one of his swiping kicks, palm blocks more of his punches, she overall began to change tactic on how to approach his attacks. If attacking back the same way resuled little she thought that at least big solid hits should be the way to knock him down. Risaka angled her body towards one of his kicks, and isntead of blocking she takes the strike near the side of her back, and very swiftly wraps her arm around the leg, using her body strength to straight up lock Manuel in place.

''I don't have to show anything.''

She responded back to his thirst of fighting, with his leg locked she took the opportunity to pull him off balance, using his weight to create a momentum of her own by swinging him around right before directing the momentum upwards! Risaka swung Manuel above her and slams his body down against the ground with all of her might, enough power to give the ground of the courtyard a shake. But she was far from done, a simple slam would never be enough, she just needed to give herself a set up. Releasing his leg Risaka turned around quickly doing a spring and jumped against a wall and kicks herself off from it. While giving Manuel time to get back up, she was already in the air charging up a kick. Her body spun with her heel reaching out, using her recently newfound move that are able to crack grounds.

''Heel-Smash..!''

While it was not a thing Risaka enjoyed to do, she did announce her move, her heel swinging down at Manuel's position, like a blunt axe that delivers a force far greater that she has previously displayed to him, a single powerful crushing strike.



-So much fighting! So many punches! That is until Manuel adds in kicking.
-Risaka sees this fight as a loop, wanting to truly damage the opponent.
-Takes a hit from his kick to allow herself the chance to grab it with her strong arms, swings him around and slams down onto the ground resulting a slight shake.
-She let goes and sprints to the nearest wall or object fitting for her to jump off from, kicking herself from the surface and aims at Manuel with a built up swinging heel smash against his body.