Post by khaozz on Mar 3, 2020 21:53:34 GMT -4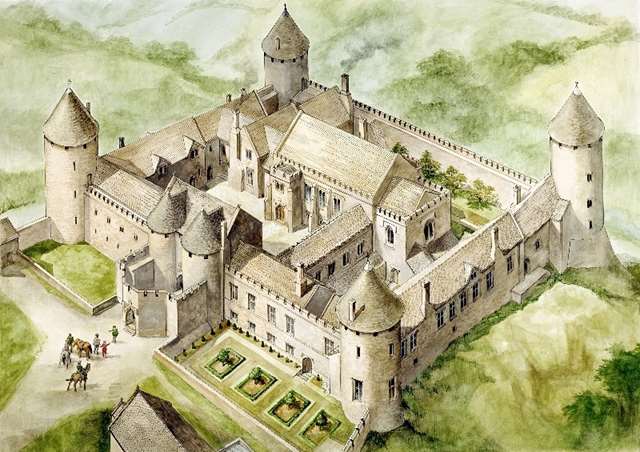 The Exhibition Festival. A battle between hero schools. There could be only one victor. And today, it would be decided just which students from which school would ultimately reign supreme. Would it be the students of UA? Or would Adler Academy triumph over their opponents? The crowd watching the events unfold would watch in anticipation and excitement to see just which of the two schools would win this battle. With cameras all over the place, they would not have to worry about missing even a second of the excitement!

Naturally, a battle as grand as this would need an equally grand setting. An appropriate battleground was needed for this fight. And the solution to this was in the form of a small castle built in the arena. This would be dubbed the Castle of Valor. A stronghold from which the defending team would try to stall out the attacking team. The victors and losers of this fight would be decided here.

The announcer began to introduce all of the students that would be participating. Afterwards, the rules of this fight would be explained in detail. Naturally, there was no serious injuring or maiming of the opponent allowed. They were all heroes, not soldiers of war. And of course, there was the main thing. Both schools' students were all assigned a task, one that they would need to complete in order to earn their school a victory.

The UA students were assigned the roles of the invading army. Their task was simple. To 'assassinate' the 'tyrannical' king by whatever means necessary. The king, whose role was played by an elegantly dressed mannequin, would need to be captured and 'executed'. Only by successfully pulling this off within the allotted time would UA be able to secure victory for themselves.

Conversely, the students of Adler Academy were given the roles of protectors of the castle. Their task was also simple. Protect the king from the 'evil' invading army at all costs. The king had already called for reinforcements from allied countries, but it would take a while for them to arrive. This time was represented by the time limit. Until this time limit reached 0, the Adler Academy had to do whatever they could to hold the attackers off and prevent their king from falling.

A time limit of fifteen minutes. In that time, the UA students would have to try to infiltrate the Castle of Valor by any means necessary. In that time, the Adler Academy students would need to try to defend the castle and their king from the intruders. Would the siege prove successful? Would fifteen minutes really be enough time for the invaders to succeed? Or would the castle's protectors succeed in holding off the invaders until the time limit was up? Could the defenders hold on for that long?

Now at first, it seemed as though UA had an unfair advantage in having six students compared to Adler's five. However, this would be compensated for in the fact that in addition to their quirks, the Adler students had extra tools at their disposal. They were given a detailed map of the arena to familiarize themselves with the terrain and the locations of all the various weapons, traps, and obstacles they could use to impede the UA students. Meanwhile, all the UA students had were each other, their quirks and ingenuity, a couple of cannons and various supplies lying around their starting area so they would not all be completely empty-handed, and a vague direction to where the throne room was. Essentially, the attacking army would be going in almost completely blind. This would hopefully even the odds and allow Adler a fair fighting chance against UA.

But would this advantage in Adler's favor prove too much for UA to be able to overcome? Or would this not be enough to stop them? Only time would tell.

There was still some time before the siege would begin. So both teams would have time to prepare and form a strategy. The students of Adler Academy were already discussing potential strategies. "Alright, so there are three main ways to get across the moat. The first is breaking through the barbican and past the gatehouse. The second is by swimming across the moat. And finally, simply flying across." "So we're going to need to keep those UA students from getting past the moat, right?" "Well there are cannons and cannonballs we could use to shoot down anyone who tries to fly across the moat." "We also have a few boats to attack anyone who tries to swim.""As for the ones who try to go through the barbican, I'll make sure not to let a single one get past me!""Alright, but we need to keep an eye out in case they try some other way of getting through."

So that seemed to be the Adler students' goal. To become an impregnable fortress and not even let the UA students get past. Of course, they also began to talk about the possibility of their opponents breaking through.

"In that case, some of us should go around and lay some traps. Meanwhile, the others make sure to move stuff around and make it hard for the enemy to go around the castle interior." "I'd like to see them try to break through. I'll be surprised if any of them last a minute against me.""Well in any case, let's do our best and show those UA guys what we Adler students can do!"

Of course, while the students of Adler were busy formulating a plan, the UA students had the opportunity to do the same. To figure out how to get past the moat, how to break into the castle, how to tackle whatever obstacles would get in their way, how to take advantage of the tools at their disposal, how to take on and defeat the students that stood in their way, and most importantly, how to find and take down the king before time ran out.

Who would win this battle? Would UA conquer Adler in this battle, or would the German school best the Japanese? Would the Castle of Valor continue to stand tall, or would it come tumbling down? The audience eagerly looked at the screen, looking forward to finding out.
---
Howdy! Just a few things to keep in mind to ensure that the finale runs as smoothly as possible:
-
Post a tl;dr at the end of all of your posts
, preferably in quotes. I'll be carefully reading everyone's posts regardless, but please write the tl;dr anyway to make things easier on everyone.
- First round of posts is just an introduction and strategizing with your teammates. After everyone posts once, then a posting order is established. Stick to the posting order as much as possible.
You have 48 hours to post when it's your turn to do so.
Failure to do so in time means you get skipped.
-
If you do get skipped, try to get your post done before it's my turn
. Or else, well...
it won't be pretty...
As a note, I'm not exempt from this 48 hour timer. If I fail to post in my allotted time and don't notify you all, then skip me. The show must go on no matter what!
-
If you feel like you won't be able to post in time, let me know in advance!
And let me know if you need a small extension to your time limit. Just try not to be too frequent with this if possible.
My generosity has limits.
- Not counting the first round of posts, as that will just serve as an intro,
this thread will go on for eight rounds total
.
-
Always tag me in addition to whoever is next in the posting order.
I'll be keeping an eye on this thread anyway, but being notified of when someone posts is nice.
- I'm only human
and a stupid one at that
, so despite my best efforts, I can and probably will make mistakes.
Please let me know if I screw up anywhere in my posts
so I can fix them right away. Apologies in advance.
-
Do not hesitate to come to me if you have any questions or concerns.
I'm here to help, not impede.
- And most important of all,
have fun!
That's what RP is all about, after all!
---
A sample map of the arena (not final, and will be updated with a more detailed one soon):
UA students are located anywhere within the outer court of the castle. The exact location is up to you. Adler students are in the front courtyard, on the opposite side of the moat north of where the UA students are.
For now, both teams are to strategize and decide on what to do before the start of the siege is announced. Best of luck to you all!
---
Here are the Adler Academy Students:
Stefan Glaswurf - Quirk: Density Break
Manuel Alfonsi - Quirk: Extreme Momentum
Amanda Chevrolet - Quirk: Pulse Plaster
Helen Magners - Quirk: Value Manipulation
Elena Magners - Quirk: Value Manipulation
More info on these students and their quirks can be found
here
if needed.