Jan 12, 2019 9:06:25 GMT -4
Post by Tyson Rhodes on Jan 12, 2019 9:06:25 GMT -4
Tyson Rhodes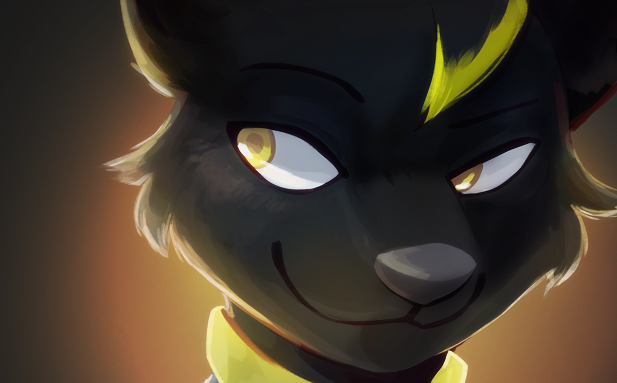 BASIC INFORMATION
Hero/Vigilante/Villain alias: Blacktooth
Player Name: Nightshade
Faceclaim/Series: Original Character (Artwork by ChromaticDrip on DA)
Age: 29
Gender: Male
Affiliation: Heroes
Height: 1.75m
Weight: 72Kg
Hair/Style: Ruffled, sleek black. Tips dyed yellow.
Skin/Scars: No scars, Skin not really visible (Black fur)
Eyes: Almond shaped, gold.
Notables: Gold earring pair on right ear.

APPEARANCE AND PERSONALITY
Appearance: Black fur, lithe build. Tyson's body closely resembles what a Lycanthrope would be if shrunk down to a more humanoid, less feral size. Mostly due to his quirk, his eyes are gold colored and almond shaped. He is seen walking around most of the time in his hero suit: a half-body suit complete with knee pads, lightly armored on chest and belly through ceramic plates, as well as shoulder pads. While mainly grey in color, all the details and trims are bright yellow.
On his feet he is seen weaing some sort of elastic open toed "boots" that fit to shape. He usually has the habit of dying the tip of his fluffy tail and "hair" yellow as well. He is always seen sporting a pair of golden earrings on his right ear, those are never taken off.
POSITIVE
✔ Loyal, Cunning, Respectful, Practical, Playful.

NEGATIVE
✖ Cocky, Theatrical, Close Minded, Mischievous.

LIKES
✔ Salmon, Beer/Rhum, Kids, Color Yellow, Fantasy Lore.

DISLIKES
✖ Radical Anti/Pro-Quirkers, Villains, Murder, Lemonade.
Personality:
Playful, Cunning, Cocky, Loyal. Tyson treats everyone with respect and politeness, trying to keep a friendly demeanor most of the time and give a good first impression. With natural leader attitude, he can be seen taking controls of situations and cooperate with teammates very effectively in the most disparate of situations. He's known to be extremely loyal to his friends and coworkers.
With a playful and slightly theatrical demeanor, he is seen taking almost everything not too seriously at first glance, unless put in specific situations that require a more serious or formal approach. In that case, the more cold and cunning side of his persona emerges for all to see, genrally appearing more thoughful and mindful. While he does view of his abilities and archievements with pride, he tends to sometimes oversetimate what he can do, he does still take responsibility for his failures and shortcomings caused by his own actions.
Strong-willed, he firmly belives in his own view of the world and will rarely accept change if not obvious or legitimated by evidence, while still being somewhat receptive and welcoming towards other's opinions despite his close minded ways. He woudln't write someone elses' opinion off entirely, but it would be hard to convince him. At worst, he'd just agree to disagree. Gritty humour and a more down to earth view of the situation at hand are his normal, he's hardly seen appealing to divine intervertion or popular beliefs, preferring to work himself out of his own troubles.
HISTORY
Tyson Rhodes was born in London with an English-Japanese heritage, right in the middle of the transitioning period of Quirkers, right in the chaos of the 2050s. Since childhood, he proved to be quite a brilliant mind, despite facing with the loss of a fatherly figure he rarely got to see. Alcohol problems and the attrition between quirkers and anti quirkers broke Tyson's family. While he doesn't talk about how or why his father disappeared, some could speculate it had to do with his bad drinking habits and the bad reputation mutant quirkers had at the time.

Since a young age, one could tell he had inherited the weirdness of his parents. The changes started with a tail and fur and soon developed in what he is now. It wasn't a gradual change, but not a rather abrupt one either. Tyson had the time to adjust to his new abilities quite soon in his life without particular problems. While his wolf form was more of a weird heritage from his father, his powers actually came from his mother.

While his native tongue was and still is English, the strong bond he shared with his mother pushed him to learn her own native language as well, as well as japanese culture.

Growing up, he pursued athletics, managing to conclude studies without a hitch thanks to the rightfully earned scholarships, managing to get accepted into a presigious university in Japan. The erasmus experience turned into his new life as he worked various jobs until able to affort a decent living in the country.

He would go on to compete in various quirker sport disciplines. While he never really did truly shine outside of the occasional bronze or silver, his black fur was an odd yet recognizable trait that gave him a small reputation with sport fans.

It was during these years of athletic competition that he became accustomed to the crazyness that was the quirked world. While he wasn't new to scuffles or vigilante work, quite the opposite, he never really got into fighting that much at first. He sure was quite capable of reading the situation at hand and use that to his favour, but diplomacy had always been his strongsuit.

Things only picked up when new faces began showing themselves to the party. At first he used his abilities to keep his neighbourhood safe, then it was his city block. Fast forward a few years and the city knew about the "wolf" helping elders during the day and howling at criminals at night. His feats became widely known, to the point where he attracted the government's attention. That was what Tyson needed to turn his life around and cultivate his natural predisposition in helping people into his new profession.

These were dangerous times...and Tyson sure knew that a well trained hero can save many lives. As such, he trained trained and trained under the government's wing to truly put meaning behind his "Hero License". He would earn it fair and square. Besides, with Hero Schools becoming a thing, the lil peeps aspiring to protect and serve needed a good figure to get inspired by no?

Once this period training concluded, he resumed his new job as a fully licenced hero, working alongside others like him, despite being relativel new to the profession, do apprehend evil-doers and protect those that, for a reason or the other, wouldn't be able to fend for themselves.